Posts for tag: orthodontic treatment
By Stephen R. Harris, DDS
October 10, 2018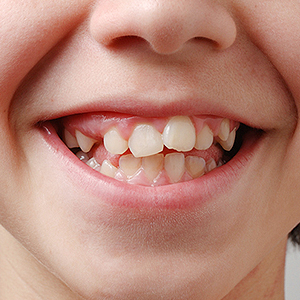 Although tooth decay is a major problem to watch for in your child's teeth, it isn't the only one. As their teeth transition from primary ("baby") to permanent, you should also be on the lookout for a developing poor bite or malocclusion.
Although the signs can be subtle, you may be able to detect an emerging malocclusion, starting usually around age 6, if you know what to look for. Here are 4 signs your child may be developing a poor bite.
Excessive spacing. This is something that might be noticeable while the child still has their primary teeth. If you notice an excessive amount of space around the front teeth, the sizes of the jaws and the teeth may be disproportional.
Abnormal overlapping. The upper teeth normally just cover the bottom teeth when the jaws are closed. But a malocclusion may be forming if the lower teeth cover the upper (underbite), the upper teeth extend too far over the lower (deep bite) or there's space between the upper and lower front teeth (open bite).
Different overlapping patterns. Watch as well for some of the teeth overlapping normally while others don't, a sign of a cross bite. For example, the back upper teeth may cover their counterparts in a normal fashion while the lower front teeth abnormally overlap the top front. The roles here between front and back teeth can also be reversed.
Abnormal eruptions. Permanent teeth normally follow a pattern when erupting, but certain factors could disrupt the process. For example, a jaw that's developed too small can cause crowding as incoming teeth vie for space; as a result, some permanent teeth may erupt out of their proper position. Likewise, if a baby tooth is out of its normal position or prematurely lost, the permanent tooth may erupt out of position too.
The good news with each of these developing bite problems is that we can correct them or at least minimize their future effect if caught early. So if you notice any of these signs or anything else out of the ordinary, see an orthodontist as soon as possible. It's also a good idea to have your child undergo a thorough orthodontic evaluation around age 6.
If you would like more information on bite problems in children, please contact us or schedule an appointment for a consultation. You can also learn more about this topic by reading the Dear Doctor magazine article "Problems to watch for in Children Ages 6 to 8."
By Stephen R. Harris, DDS
July 07, 2017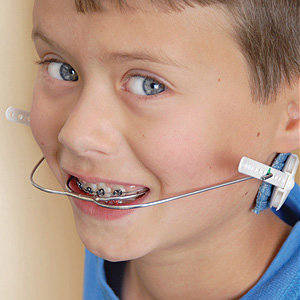 Braces utilize the mouth's existing teeth-moving mechanism by applying pressure in the direction of the desired movement. This is done with a wire laced through metal brackets affixed to the outside of the teeth that's then usually anchored to brackets on the back teeth to maintain constant tension.
This anchorage set-up alone, however, may not work effectively with all bite situations, which might require other points of anchorage. That's where these other tools in the orthodontist's toolkit can come in handy.
Headgear. These appliances not only aid with moving teeth but they also help influence the proper growth of facial structures (as when one of the jaws is too far forward or too far back). Because of this influence on jaw growth you'll only find them used with pre-teens. The most typical application is a strap running around the back of the head or neck (or sometimes over the chin or forehead) that attaches in the front to brackets usually bonded to the molars. In this case the back of the patient's skull serves as the anchor point.
Temporary anchorage devices (TADs). Orthodontists sometimes wish to isolate the teeth to be moved from nearby teeth that shouldn't be. For example, they may want to move front teeth back to close a space without the back teeth moving forward. In this case, it may be necessary to create a separate anchorage point in the jaw. This can be done with TADs, which are made of either biotolerant (stainless steel, chromiumâ??cobalt alloy), bioinert (titanium, carbon), or bioactive (hydroxyapatite, ceramic oxidized aluminum) materials and shaped like mini-screws. Orthodontists insert them into the bone and then attach them to the braces using elastics (rubber bands). After completing orthodontic treatment they're easily removed.
Elastics. We've already mentioned them, but elastics deserve their own category because they can be used in various kinds of anchorage. They play an important role, for example, in cross-arch anchorage that maintains tension between the upper and lower jaws. They can also be used to help move one or more groups of teeth — or isolate certain teeth from moving. They truly are flexible (no pun intended) in their uses for fine-tuned tooth movement.
All these devices can be used in various combinations to match and correct whatever bite situation a patient may have. The end result is straighter and better-functioning teeth — and a more attractive smile.
If you would like more information on orthodontic treatment, please contact us or schedule an appointment for a consultation. You can also learn more about this topic by reading the Dear Doctor magazine article "Orthodontic Headgear & Other Anchorage Appliances."
By Stephen R. Harris, DDS
May 11, 2016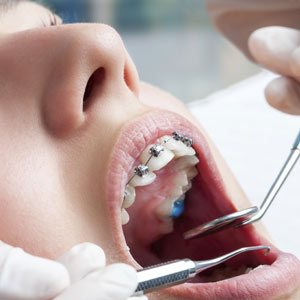 When designing your new smile, we have a lot of options for changing how individual teeth look: from whitening discolored teeth to replacing missing teeth with life-like dental implants. But the problem may not be how your teeth look — in fact, individually they may look perfect. If they're not straight, though, your smile won't be as attractive as it could be.
We can address a poor bite (malocclusion) through the dental specialty of orthodontics. By moving misaligned teeth we may be able to transform your smile without any other dental work, or it could serve as a more solid foundation for other cosmetic enhancements. To find out if orthodontics can make a difference for you, you should begin with an initial visit to your general dentist. A thorough dental examination will enable them to tell you if correcting your bite could be a good option for you. If it is, they'll most likely refer you to an orthodontist, a specialist in treating malocclusions.
The orthodontist will also perform an evaluation and get as complete a picture as possible of your particular bite problems. This examination will also include checking jaw growth and development in younger patients, how the affected teeth align with other teeth, and if your current bite is having any effect on the jaw joints. This will provide a good overview of not only the malocclusion but how it affects the rest of your mouth.
With this detailed analysis, they can then advise you on the best course of treatment. Most malocclusions can be corrected with braces or, increasingly, clear aligner trays. In certain situations, though, more specialized approaches may be needed, such as isolating only certain teeth for movement.
While orthodontic treatment takes time and can be expensive, the end result can be amazing: an improved bite that not only enhances your appearance but improves function and long-term health. Along with other cosmetic enhancements to your teeth and gums, orthodontics can give you a new sense of confidence in your smile.
If you would like more information on improving your smile with orthodontic treatment, please contact us or schedule an appointment for a consultation. You can also learn more about this topic by reading the Dear Doctor magazine article "The Magic of Orthodontics."