Posts for tag: dental implant
By Stephen R. Harris, DDS
December 22, 2020

What a difference forty years can make: Dental bridges once occupied the top spot for choices to replace missing teeth until the arrival of dental implants in the 1980s. Today, dental implants are the gold standard for dental restoration.
But although bridgework may have lost "first chair" in the orchestra of restorations, it's still a viable option. In fact, it can be the best option in certain situations.
Bridges consist of a series of porcelain crowns fused together like fence pickets. The center crowns, known as the pontics, "bridge" the gap left by a missing tooth or teeth. The crowns on each end, the abutment teeth, crown the natural teeth on either side of the gap to support the bridge.
Bridges are effective and durable, but with a major downside: To accommodate the abutment crowns, we must reduce the size of the natural teeth to which they'll be attached. This alteration can weaken those teeth's structure and require them from then on to have some form of restoration. They're also at higher risk for tooth decay.
Implants, on the other hand, don't require this alteration, and may also be more durable than bridges. Why then consider a bridge?
Price can be a factor: Implants may be more expensive, especially involving multiple teeth. Keep in mind, though, that this only compares the initial cost: Because implants have a 95% or more ten-year success rate, with further evidence they could potentially last for decades, they may actually cost less in the long-run than bridge restorations that have a higher chance of being replaced sooner.
But the prime reason is that some dental situations aren't suitable for dental implants. For instance, implants require a certain amount of bone for proper placement, so people with extensive bone loss may not be able to acquire them. Health conditions like uncontrolled diabetes or a compromised immune system can also complicate implant installation. A bridge in these cases may represent a better alternative.
With the help of your dentist, you'll need to consider your individual situation, dental and financial, in deciding between an implant or a bridge. And, if a dental bridge is your best option, it will be a solid choice for restoring your missing teeth and your smile.
If you would like more information on various dental restoration methods, please contact us or schedule an appointment for a consultation. You can also learn more about this topic by reading the Dear Doctor magazine article "Crowns & Bridgework."
By Stephen R. Harris, DDS
July 11, 2020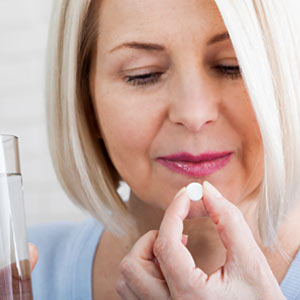 Dental implants are far and away the most "tooth-like" restoration available today for missing teeth. Not only do they look real, they also mimic dental anatomy in replacing the tooth root.
To install an implant, though, requires a minor surgical procedure. And, as with any surgery, that includes a slight risk for a post-surgical infection. For most patients this isn't a major concern—but it can be for people with certain medical conditions.
One way to lessen the risk for implant patients whose health could be jeopardized by an infection is to prescribe a prophylactic (preventive) antibiotic before implant surgery. The American Dental Association (ADA) recommends the measure for patients with artificial heart valves, a history of infective endocarditis, a heart transplant and other heart-related issues.
In the past, their recommendation also extended to people with joint replacements. But in conjunction with the American Academy of Orthopedic Surgery (AAOS), the ADA downgraded this recommendation a few years ago and left it to the physician's discretion. Indeed, some orthopedic surgeons do recommend antibiotic therapy for patients before surgical procedures like implantation for up to two years after joint replacement.
These changes reflect the ongoing debate over the proper use of antibiotics. In essence, this particular argument is over risks vs. benefits: Are pre-surgical antibiotics worth the lower infection risk for patients at low to moderate risk in return for increased risk of allergic reactions and other side effects from the antibiotic? Another driver in this debate is the deep concern over the effect current antibiotic practices are having on the increasing problem of antibiotic-resistant bacteria.
As a result, dentists and physicians alike are reevaluating practices like prophylactic antibiotics before procedures, becoming more selective on who receives it and even the dosage levels. Some studies have shown, for example, that a low 2-gram dose of amoxicillin an hour before the procedure can be effective with much lower risks for side effects.
If you're considering dental implants and you have a medical condition you think could be impacted by the procedure, discuss the matter with your dentist and physician. It may be that pre-surgical antibiotics would be a prudent choice for you.
If you would like more information on getting dental implants, please contact us or schedule an appointment for a consultation. You can also learn more about this topic by reading the Dear Doctor magazine article "Implants & Antibiotics."