Posts for: February, 2021
By Stephen R. Harris, DDS
February 20, 2021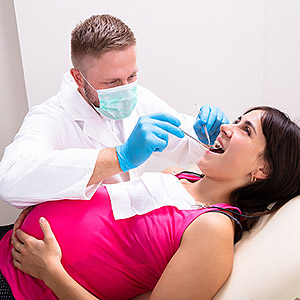 Learning you're pregnant can change your life in a heartbeat—or now two. Suddenly, what was important to you just seconds before the news takes a back seat to the reality of a new life growing within you.
But although many of your priorities will change, there's one in particular that shouldn't—taking care of your dental health. In fact, because of the hormonal changes that will begin to occur in your body, your risk of dental disease may increase during pregnancy.
Because of these hormonal variations, you may find you have increased cravings for certain foods. If that includes eating more carbohydrates (especially sugar), bacteria can begin to multiply in your mouth and make you more susceptible to tooth decay and periodontal (gum) disease.
The hormones in themselves can also increase your risk of gum disease in particular. There's even a name for a very common form of gum infection—pregnancy gingivitis—which affects around two-fifths of pregnant women. If not treated, it could aggressively spread deeper within the gums and endanger both your teeth and supporting jaw bone.
The key to minimizing both tooth decay and gum disease is to keep your mouth clean of dental plaque, a thin bacterial biofilm most responsible for these diseases. You can do this by keeping up daily brushing and flossing and maintaining regular dental cleanings and checkups. Professional dental care is especially important during pregnancy.
You may, though, have some reservations about some aspects of dental care, especially if they involve undergoing local anesthesia. But many medical organizations including the American Congress of Obstetricians and Gynecologists and the American Dental Association recommend dental treatment during pregnancy. Even procedures involving local anesthesia won't increase the risk of harm to you or your baby.
That said, though, elective dental work such as cosmetic enhancements, might be better postponed until after the baby is born. It's best to discuss with your dentist which treatments are essential and should be performed without delay, and which are not. In general, though, there's nothing to fear for you or your baby continuing your regular dental care—in fact, it's more important than ever.
If you would like more information on dental care during pregnancy, please contact us or schedule an appointment for a consultation. You can also learn more about this topic by reading the Dear Doctor magazine article "Dental Care During Pregnancy."
By Stephen R. Harris, DDS
February 10, 2021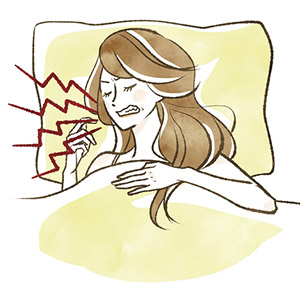 Life has changed dramatically over the centuries. But although our ancient forebears wouldn't recognize much of our modern world, they would be well acquainted with one particular oral habit that still persists. There's some evidence from archeological dental examinations that our ancestors also clenched or ground their teeth.
This habit of involuntarily gnashing, clenching or grinding the teeth together is most prevalent among children, although not considered a major problem at these younger ages. But it can continue into adulthood, as it does for one in ten people, and lead to an array of problems from worn teeth to jaw joint pain.
As to why adult teeth grinding occurs, researchers have proposed a number of possibilities. Some believe it may be related to the arousal response that occurs when a person passes through various stages of sleep. It also appears that certain psychoactive drugs can trigger it. But at the top of the cause list, teeth grinding is believed to be a physical outlet for stress.
Because of the possibility of multiple causes, there is no one method for treatment—instead, it's better to tailor treatments to the individual. Universally, though, patients who use drugs, alcohol or tobacco, all of which are considered contributing factors, may reduce grinding episodes by restricting their use of these substances.
It's also possible to reduce the incidence of teeth grinding through better stress management. People can learn and use individual relaxation techniques like meditation, mindfulness or biofeedback. For sleep-related teeth grinding it may also be helpful to forgo use of electronic devices before bedtime for a better night's sleep.
Dental treatments like an occlusal guard worn mainly during sleep can minimize the effects of nocturnal teeth grinding. This custom-made appliance prevents teeth from coming fully into contact with each other, thus lowering the intensity of the biting forces generated and preventing cumulative damage to teeth and dental work.
If you have symptoms like sore teeth and jaws, reports from your family hearing you grind your teeth, or catching yourself during the day clenching your teeth, make an appointment for a full examination. From there, we'll help you find the right combination of solutions to keep this old habit from complicating your oral health.
If you would like more information on teeth grinding, please contact us or schedule an appointment for a consultation. You can also learn more about this topic by reading the Dear Doctor magazine article "Teeth Grinding."