Posts for: March, 2018
By Stephen R. Harris, DDS
March 28, 2018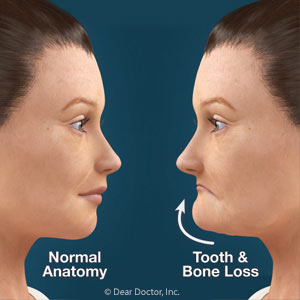 Losing teeth will certainly disrupt your otherwise beautiful smile. It could also potentially affect your food choices and whether or not you receive proper nutrition.
But something else just as consequential could be happening beneath the surface of your gums—you could be losing bone. Significant bone loss in the jaw could adversely affect remaining teeth and facial structure, as well as limit your future restoration choices.
To understand why this occurs we must first consider what bone is: living, cellular tissue. Like the body's other cells, bone has a life cycle: cells form, live and eventually dissolve (or resorb), and are then replaced by new cells. Stimulation from forces generated during chewing traveling up through the tooth roots to the jawbone keep this cycle going at a healthy pace.
But when a tooth is missing, so is this stimulation. This could slow the replacement rate and cause bone volume to gradually decrease. The jawbone width could decrease by as much as 25% the first year alone and several millimeters in height after just a few years.
Although dentures (a popular and affordable choice) can restore lost function and appearance, they can't duplicate this needed stimulation. They even accelerate bone loss by irritating and creating compressive forces on the bony ridges and the gums they rest upon.
One restoration, however, can actually help stop bone loss and may even reverse it: dental implants. This happens because an implant's metal titanium post imbedded in the jawbone attracts bone cells to grow and adhere to its surface. This could actually increase bone density at the site.
To gain this advantage, it's best to obtain implants as soon as possible after tooth loss. If you allow bone loss to occur by waiting too long, there may not be enough to properly support an implant. Even then it might be possible to build up the diminished bone through grafting. But if that's not possible, we'll have to consider a different restoration.
To determine the condition of your bone after losing teeth, visit us for a complete examination. Afterward, we'll be able to discuss with you the best way to address both your overall dental health and your smile.
If you would like more information on treating missing teeth, please contact us or schedule an appointment for a consultation. You can also learn more about this topic by reading the Dear Doctor magazine article "The Hidden Consequences of Losing Teeth."
By Stephen R. Harris, DDS
March 13, 2018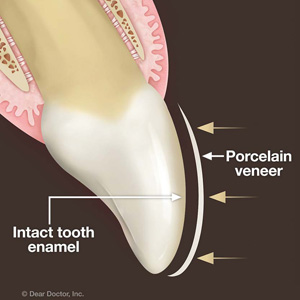 Porcelain veneers are one of the best ways to transform your teeth's appearance with only a small amount of tooth preparation. But even that small amount could leave a veneered tooth permanently altered.
As the name implies, veneers are thin layers of custom-designed porcelain bonded to the outside of a tooth to cover defects. They're usually ideal for minor chipping, staining or even slight tooth misalignments. But although they're thin—often just a millimeter or so in thickness—they can still make a tooth appear or feel bulky.
To reduce this extra width, we usually need to remove some of the tooth's surface enamel. Since enamel doesn't replenish itself, this alteration could mean the tooth will require a restoration from then on.
But now, you may be able to take advantage of new advances in this popular restoration: No-Prep or Minimal Prep veneers that involve little to no tooth alteration. In most cases they're simply bonded to the teeth with only slight enamel reshaping.
Because of their ultra-thinness, No-Prep veneers (usually between 0.3 to 0.5 mm, as thin as a contact lens) are bonded directly to teeth that are practically untouched beforehand. A Minimal Prep veneer usually requires only enamel reshaping with an abrasive tool before it's placed. And unlike traditional veneers, they can often be removed if needed to return the teeth to their original form without another restoration.
These new veneers are best for people with small teeth, often from wear due to teeth grinding, narrow smiles (the side teeth aren't visible while smiling), or slightly misshapen teeth like underdeveloped teeth that can appear peg-shaped. But people with oversized teeth, some malocclusions (bad bites) or similar dental situations may still require enamel removal to avoid bulkiness even with ultra-thin veneers.
If you don't have those kinds of issues and your teeth are reasonably healthy, we can apply No-Prep or Minimal Prep veneers in as few as two appointments. The result could be life-changing as you gain a new smile you're more than happy to share.
If you would like more information on no-prep veneers, please contact us or schedule an appointment for a consultation. You can also learn more about this topic by reading the Dear Doctor article "No-Prep Porcelain Veneers."