Posts for: April, 2017
By Stephen R. Harris, DDS
April 15, 2017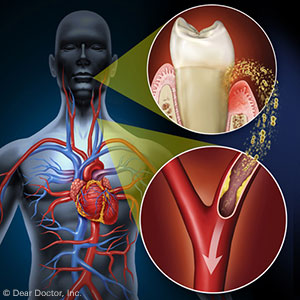 If you have periodontal (gum) disease, it's important for you to know its effects aren't limited to your mouth. A number of studies demonstrate gum disease can affect the rest of your body — and what may be going on elsewhere could likewise stimulate gum disease.
Here are 3 diseases or conditions that seem to share a link with gum disease.
Diabetes. This chronic disease results from the body's inability to interact properly with insulin, the hormone necessary for turning glucose (sugar) into energy, or producing enough of it. There's clear evidence that having diabetes increases your risk of gum disease and vice-versa. If you have diabetes, it's important that you keep it under control for your gum's sake as much as for your overall health.
Cardiovascular disease. Like diabetes, this group of heart and blood vessel diseases has a related characteristic with gum disease: inflammation. This natural function of the immune system limits tissue damage caused by disease or injury. But in both CVD and gum disease, inflammation can become chronic and itself cause damage. Further, some types of bacteria associated with gum disease can contribute to a higher risk of CVD. Minimizing gum disease occurrence with good oral hygiene could positively impact your risk of CVD.
Pregnancy. While certainly not a disease, pregnancy does trigger hormonal changes in the mother that in turn could elevate her risk of gum disease, particularly pregnancy gingivitis. Not only does this pose problems for the mother's teeth and gums, some studies connect gum disease to the increased possibility of early, pre-term birth. A sharper focus on dental care during pregnancy not only benefits the mother but may also be important for the health of the baby.
These aren't the only conditions that can be affected by gum disease: others like osteoporosis, respiratory disease or rheumatoid arthritis also share links with the disease. If you have any systemic condition like these, it pays to be extra vigilant in preventing and treating gum disease.
If you would like more information on periodontal (gum) disease, please contact us or schedule an appointment for a consultation. You can also learn more about this topic by reading the Dear Doctor magazine article "Good Oral Health Leads to Better Health Overall."
By Stephen R. Harris, DDS
April 12, 2017
If your dentist has recommended dentures, you've probably got a few questions. Dr. Stephen Harris, your dentist in Farmington Hills, MI,
has extensive experience with prescribing, designing and fitting dentures for his patients. He wants to make sure each patient has the knowledge and understanding they need to make good decisions about their oral health, which is why he discusses the types of dentures he offers at his dental practice.
What are dentures?
Dentures have been around for many centuries as a way to replace missing teeth. You've likely heard that our first President, George Washington, wore wooden dentures. According to the History Channel, the bases of his dentures were actually made from brass and the teeth were from both human donors and a hippopotamus! As you can imagine, these dentures were uncomfortable and didn't function very well. Today, dentures are much more comfortable and realistic. The "false teeth" your Farmington dentist uses are typically made from a plastic base, called acrylic, that is designed to be the color and texture of gum tissue; this base holds resin or porecelin teeth that look just like the real thing.
What kind of dentures do I need?
Although a thorough evaluation from your Farmington dentist will determine your best course of action, your dentures will be one of two styles: full or partial. Full dentures, also called complete dentures, replace all the teeth on the upper and/or lower jaws. Partial dentures fill in gaps when there are still healthy natural teeth remaining. While full dentures take several months to prepare, partials are inserted on the same day. Both types of dentures require removal at night for cleaning; Dr. Harris will make sure you understand the cleaning routine.
Dentures can make a huge difference in your smile and eating habits, so if you think you might benefit from them, contact Dr. Harris' dental office in Farmington, MI, today!